Programming language: Go
License: Apache License 2.0
Ebiten alternatives and similar packages
Based on the "Game Development" category.
Alternatively, view Ebiten alternatives based on common mentions on social networks and blogs.
Scout APM uses tracing logic that ties bottlenecks to source code so you know the exact line of code causing performance issues and can get back to building a great product faster.
* Code Quality Rankings and insights are calculated and provided by Lumnify.
They vary from L1 to L5 with "L5" being the highest. Visit our partner's website for more details.
Do you think we are missing an alternative of Ebiten or a related project?

Add another 'Game Development' Package
README
Ebiten (v2)
A dead simple 2D game library for Go
Ebiten is an open source game library for the Go programming language. Ebiten's simple API allows you to quickly and easily develop 2D games that can be deployed across multiple platforms.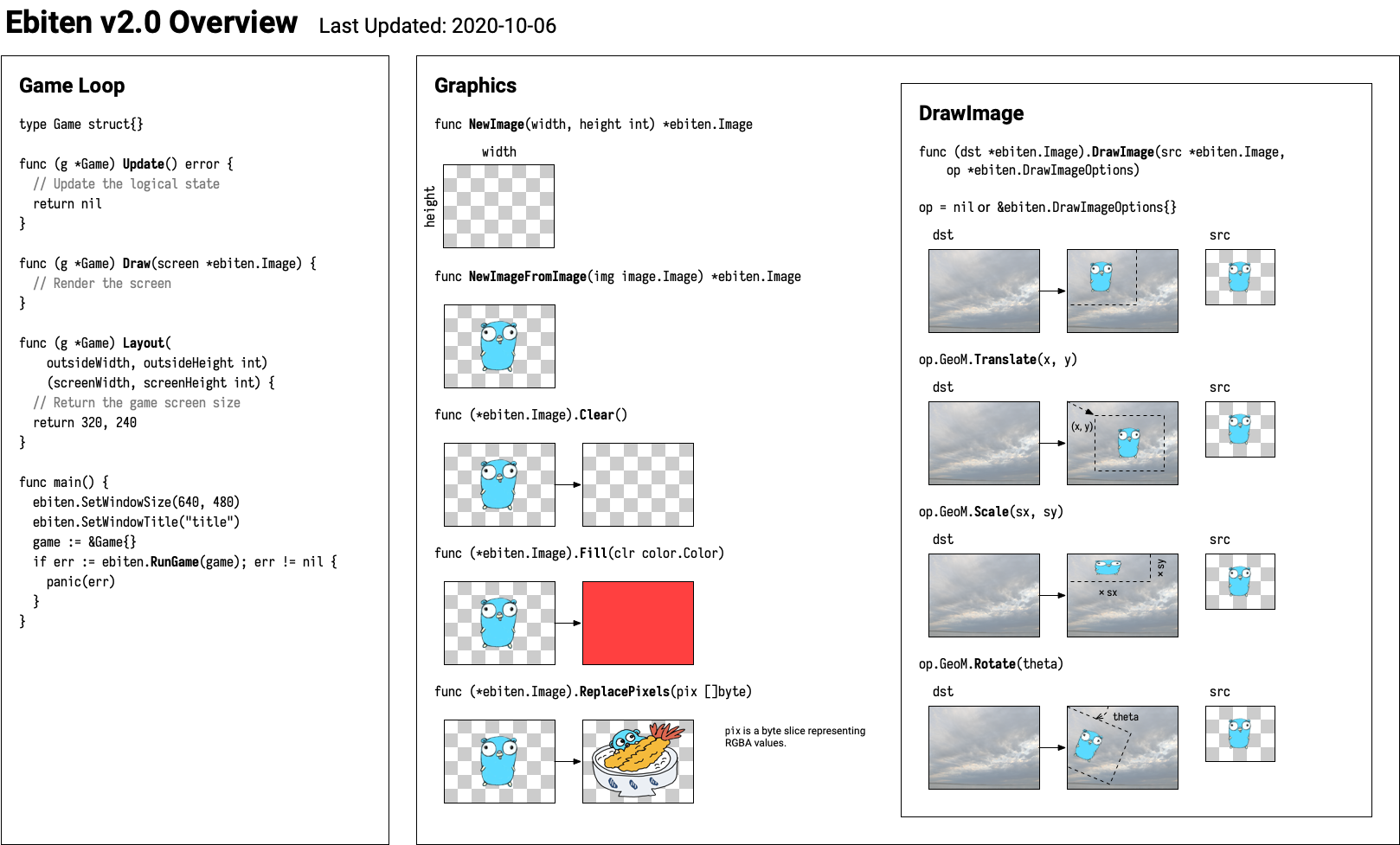 Platforms
Note: Gamepad and keyboard are not available on Android/iOS.
For installation on desktops, see the installation instruction.
Features
2D Graphics (Geometry/Color matrix transformation, Various composition modes, Offscreen rendering, Fullscreen, Text rendering, Automatic batches, Automatic texture atlas)
Input (Mouse, Keyboard, Gamepads, Touches)
Audio (Ogg/Vorbis, MP3, WAV, PCM)
Packages
Community
Slack
#ebiten channel in Gophers Slack
License
Ebiten is licensed under Apache license version 2.0. See LICENSE file.

*Note that all licence references and agreements mentioned in the Ebiten README section above are relevant to that project's source code only.